Dumbwaiter Lift

manufacturers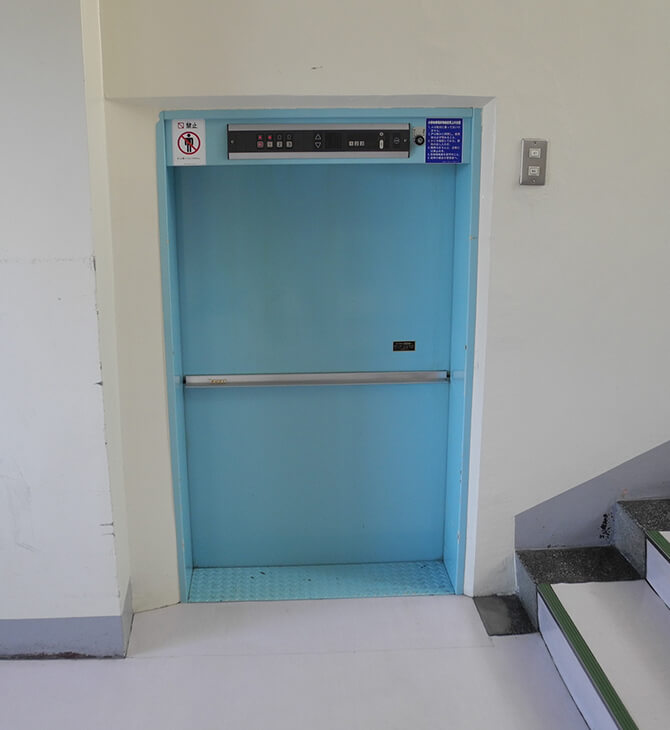 Emperor elevators - Elevators company in Chennai engage in the manufacturing and installation of dumb waiter lifts, which are generally used for transferring food from one place to the another.

Dumbwaiter lift in chennai are mostly found in commercial settings like kitchen, restaurants and bars and even in offices and hospital in some cases.

Dumb waiter lifts have been in use for more than thousands of years.

Originally its usage dates back to around 2000 BC, during the age of Romans where architects used dumb waiter lifts to allow the movement of goods from one place to another.

Over the years, the use of dumb waiter lifts evolved from kitchens to hospital to pharmacies and can be found even in many commercial establishments as it saves times and also a cost - effective option.
What is Dumbwaiter lifts?
Benefits of dumbwaiter lifts
A Dumbwaiter lift is a freight elevator mechanism that is intended to move food. Dumbwaiters are found in a lot of commercial, modern, public and private buildings. They are connected between multiple stories of the same building. They are installed in restaurants, schools, hospitals, old-age homes in the kitchen. Most dumbwaiters have a mechanical shaft mechanism with specialised carts attached to them. They are run on electric motors that are pulled by ropes. They are manually or automatically controlled by ropes on a pulley system. They have a general supporting load capacity of 450 kg.
Dumbwaiter lift in chennai provide a great solution to move items from one floor to another within a building. They are connected to multiple floors in the building and facilitate easier movement of goods between them. They are used in educational institutions, hospitals, commercial and private establishments. Anything can be transported with the use of a dumbwaiter ranging from files and paperwork in an office to food and trash in a restaurant. They are also highly efficient and space-saving elevator systems. They are primarily safe and have a low risk generally compared to other types of elevator mechanisms.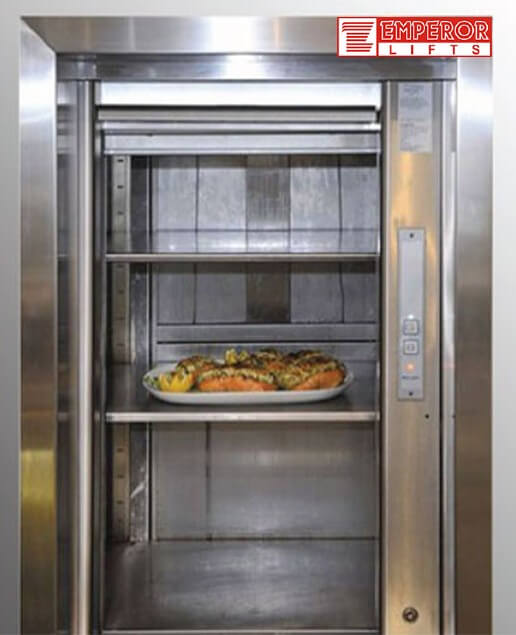 Doors – Automatic/Manual Automatic – mild steel, stainless steel, glass
Manual – wooden swing, ms, telescopic, ms imperforated door, ms swing
Cabin – Mild steel, wooden, stainless steel
False roof – FREL 1, 2, 3
VVVF | ARD
Common uses for Dumbwaiter lifts
A dumbwaiter is intended to carry small objects and items between different floors in the same building. Dumbwaiter lift in chennai come with a lot of advantages. We have listed out several advantages of the dumbwaiter lift.
Transporting objects - One of the major advantages of dumbwaiter lifts is that they help in moving objects through floors. They are installed in a wide variety of establishments where moving objects with ease and efficiency is required.

High efficiency - They are highly efficient and power-saving mechanisms that can save physical strain to carry items. It removes manual labour.

Space-saving - They are smaller when compared to conventional elevators making them much more convenient to install in buildings. They also reduce substantial strain on the building structure.
What are dumbwaiter lifts called?
Dumbwaiter lift in chennai are known by different names. Generally, they are known as dumb waiter lifts, small freight lifts, service lifts, kitchen lifts, food lifts or a microlift. This naming system relates to the situation or the building service where they are deployed. For example, in a restaurant/bar/pub, they are called food lifts or kitchen lifts. They are also known as the lazy waiter (Speiseaufzug) in one of the oldest restaurants in Munich. The term dumb waiter which is popular today was popularised in the United States in the late 1840s.
Features of dumb waiter lifts
If you are considering purchasing a specialised dumb waiter lift then these key features will help you choose a quality dumbwaiter lift.
Weight limit of dumbwaiter lifts – When choosing a dumb waiter lift one of the key features to look out for is the weight limit of the dumb waiter lift. Certain dumbwaiter lifts have specific weight lifts. You have to keep this in mind because overloading a lift can cause significant damage to your elevator system.
The size of the tray – It is important to look for an appropriate size when choosing dumbwaiter lifts because the platform tray should accommodate the necessary objects that you wish to transport or move freely between floors.
Safety features – It is important to look for key safety features in an elevator that can ensure the safety of the elevator mechanism. There are key safety mechanisms like interlock latches and emergency brakes. Make sure these are installed with your elevator.
Travel speed – You have to make sure to choose a dumbwaiter lift in chennai with appropriate speed limits depending on your needs. Average speed varies from 20 to 30 feet per minute, some may travel faster than average speeds. Emperor lift are one of the best elevator manufacturers in chennai that process with safety features with high security.
The appearance of the elevator car – Depending on where you are planning to place it you may have to consider the styling and appearance of the car. There are lots of options to choose from. They can also be customised as per your needs. Emperor lifts are the best dumbwaiter lift in chennai that produce the quality products with customized service.
Thinking of taking the next step with us?