Dates
15 – 19 June, 2023
Venue
Chennai Trade Centre
Mount Poonamallee Road, Nandambakkam,
Chennai – 600 089, India.
Exhibition Timings 
Business hours : 10 : 00 hrs to 15 : 00 hrs on all days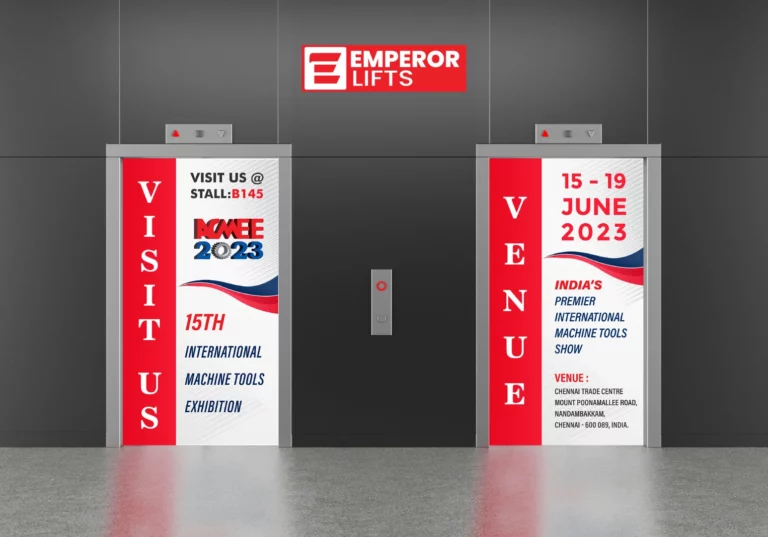 Join us at ACMEE – 2023, where we warmly welcome you!
Get ready for India's top International Machine Tools Show, ACMEE! Experience cutting-edge technology from 15th to 19th June 2023 at Chennai Trade Centre, India. Visit Hall B Stall B-145 to see incredible elevator innovations and services by our experts.
The ACMEE exhibition is famous for displaying the newest technology used in various industries. It's a fantastic chance to see the best innovations and services by elevator experts. By attending the exhibition, you can gain valuable knowledge about the latest trends and advancements in the elevator industry, especially in hassle-free lift technology.
Don't forget to save the date and come to Hall B Stall B-145 during the event. Emperor Lifts, the lift manufacturers, will showcase Home Lifts, Hydraulic Lifts, Goods Lifts, MRL Elevators, Passenger Lifts, Hospital Lifts, Dumbwaiter Lifts and Traction Elevators. It's a great opportunity to connect, explore new technologies, and stay updated with the latest trends in the elevator industry.
Have a great time at ACMEE 2023 and make the most of your visit to the top international machine tools exhibition!