Hydraulic elevators are used for a substantial amount of time in history, they are also called heavy-duty lifts. These elevators are durable in nature and are used in establishments that have several floors. The piston that rises higher and lowers through the hydraulic system moves the elevator cab.
The pressure produced by the piston moves the elevator. The machine room in this type of elevator has a hydraulic pumping device that ensures a smooth and safe journey to the passengers inside the elevator.
The hydraulic elevator tank releases the pressure, and that helps in moving the shaft slowly from the top floor to the lower floor. We at Emperor lifts customise hydraulic elevators for homes as per customer's needs.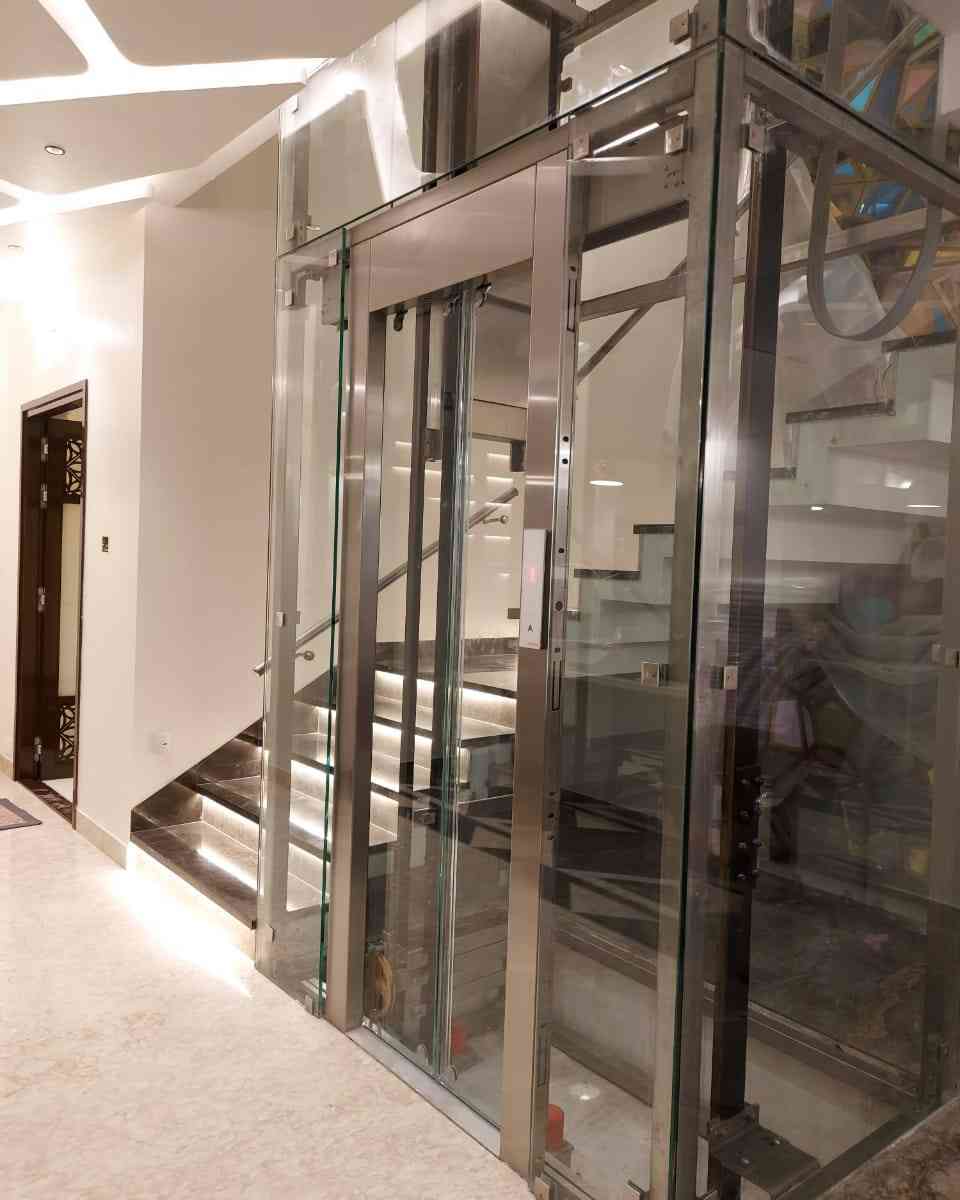 Elevator and Installation
The significant factor of installing an elevator is the safety of an elevator. The guide rails in an elevator give stability to the shaft in an elevator. The shaft must be installed in a way it touches two sides of the wall. The installation of hydraulic home elevators has different designs and degrees of quality. The quality of an elevator must always be high to assure the safety of the elevator. Only well-trained technicians and engineers can install elevators safely and efficiently. We have been manufacturing different types of lift since 1996 making one of the top hydraulic home elevators in India.
Hydraulic Elevator Maintenance
Regular maintenance of an elevator has to be ensured for normal and safe operation. These elevators need special maintenance and care. Usually, elevator manufacturers and lift operators know well about hydraulic elevators and their maintenance. Hydraulic lift maintenance involves hydraulic pump inspection, control system and ride quality review. The aeration inside the hydraulic reservoir must be inspected. The fluid contamination inside the hydraulic pump usually causes damage in an elevator. The traffic time or the peak time of an elevator is used for ride quality review.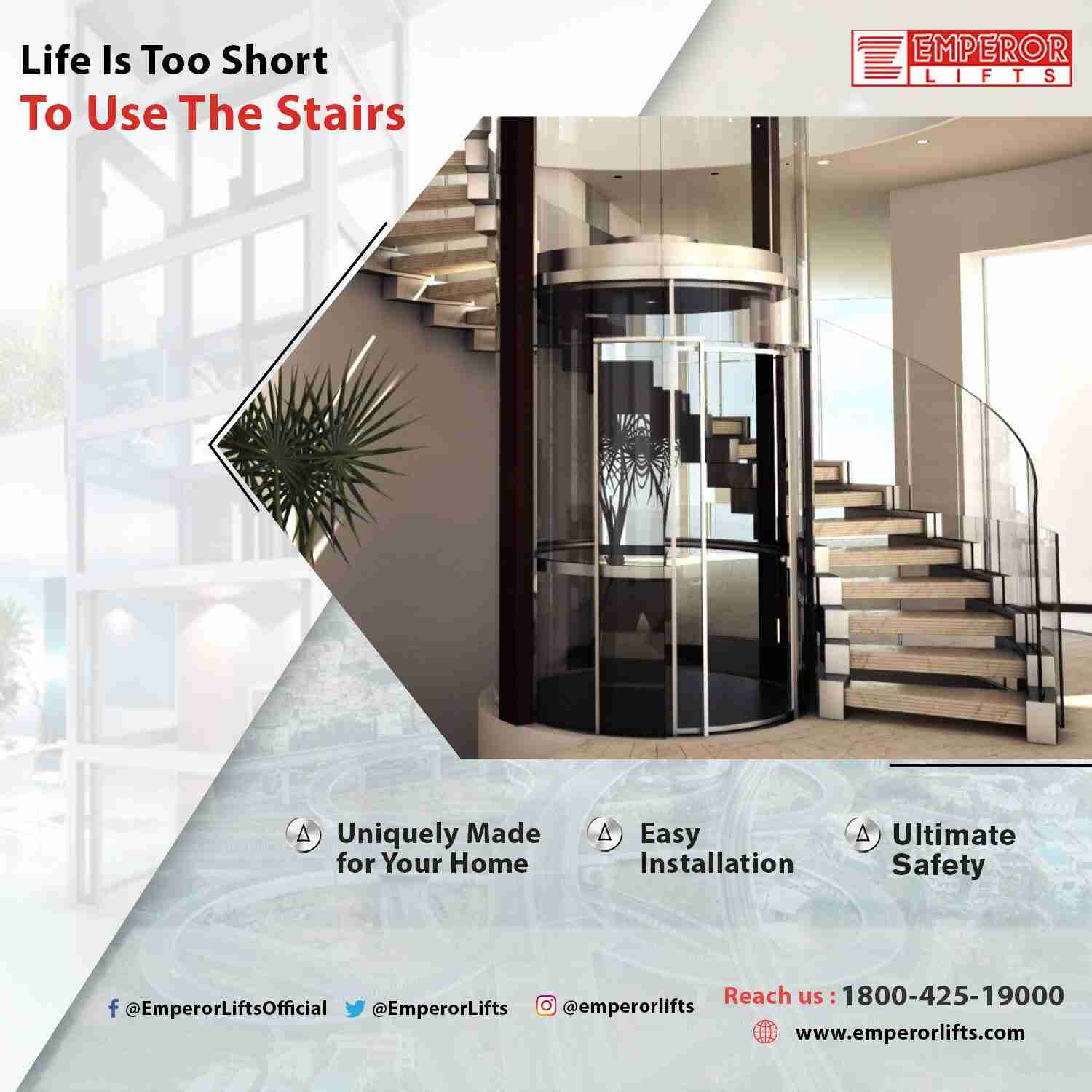 Cab and Finish Details
Elevators with interiors give an aesthetic finish and a pleasing feel to the person travelling inside an elevator. Elevator designs include metal finish and lavishing colour cab. The plain wood panel gives a luxurious feel to the cab. Emperor lift is customising different designs and colours based on customer's needs for years making it one of the top lift companies in Chennai.
Eco-Friendly Elevators
The vacuum technology in an elevator helps in the generation of pressure in a high and low-pressure cylinder hoistway. This pressure cylinder hoist way comprises o2 and co2 that are eco-friendly gases used in elevators.
Benefits Of Hydraulic Home Elevator System
The major benefit of a hydraulic lifts and its safety and comfort.
The maintenance of hydraulic elevators is easy, and they are durable in nature.
They are noiseless when compared to other types of lift.
The security system in the hydraulic home elevator is trouble-free and friendly.
When compared to electric elevators hydraulic, elevators are eco friendly and cost-effective.
Hydraulic elevator for homes requires only a minimal amount of space.
Hydraulic elevators are weightless when compared to other electric elevators.
Heavy objects and machinery in companies are easily lifted through hydraulic elevators.
The hydraulic elevator can perform well under 2 phase power as well.
Convenience:
Hydraulic home elevators allow you to move from one place to another efficiently without the usage of any stairs. This helps you to move fast and safely. Our trained technicians and manufacturers ensure service for our customers 24/7 making it one of the top home lift in Chennai.
Dependability:
The governing bodies have set some regulations for elevators and we provide elevators according to the regulation that is put forth. The key safety feature of an elevator allows users to feel safe while using the elevator. It is reliable on high-intensity usage, equipment maintained in a bad way and external cases of damage like water, fire and vandalism.
Customization:
Elevators are customised in a way that's functional and gives an attractive look. Emperor lifts customizes unique cab style elevators, a combination of colour shades and aesthetically pleasing designs.
Low maintenance:
Maintaining the elevator is easy compared to other conventional types of elevators. Regular maintenance of an elevator plays a major role. Check whether the doors and alarms in an elevator are operated properly. Our trained technicians are here to help you out. Do contact our customer service number for queries related to elevators.
Affordability:
People think elevators are not quite cost-effective but home elevators are affordable. The home lift price depends upon the type of hydraulic elevator we install.
Safety features:
The key aspect of an elevator is its safety. The safety measures in an elevator include the door closing devices, hoistway door interlocks, emergency evacuation, alarms and emergency fire extinguishers. The regular maintenance of an elevator prevents shutdowns and breakdowns and helps the elevator move smoothly and efficiently.
Thinking of taking the next step with us?