The aim of this blog is to deliver some knowledge about the difference between the service elevator and freight elevators.
The important thing that you should know before choosing an elevator for your project is whether it is a new construction or trying to modernize the old construction space. The goods elevators have capacities more than service elevators for heavy load lifting purposes and also it requires more structural requirements than the other elevators. Let us see here how both elevators are different from each other.
Service Elevator
Whether the elevator code treats a service elevator as a passenger elevator, what makes a service elevator vary from passenger elevator. Service elevators often carry maximum 5000 lbs, as its requires only the normal power to operate for the elevator. The easy way to find the difference between passenger elevators and service elevators using a hospital setting. Passenger elevators have wider areas than deep and its used to transport passengers. Click the link to know more about the passenger lift size and dimensions. For the most part service elevators deeper than they are wide. Service elevator structured to carry clinical equipment such as stretchers, beds etc,. Service elevators are often confused as goods elevators, but they are structured for the purpose of carrying workers, stocks and light duty carts in apartments and other utility purposes. Most service elevators open the door and have a traditional opening door.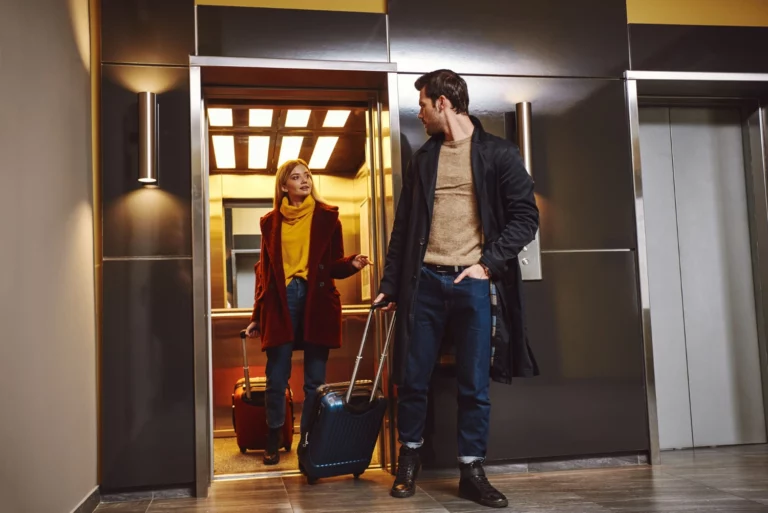 Usually in hospitals they are using service elevators for carrying the large objects like stretches, bed and other clinical equipments to change from one place to another.
We can use service elevators in the following industries
Hospitals
Clinical or medical facilities
Hotels
Commercial buildings and
Supermarkets
Factors should know before choosing service elevators
Location in the building
Should consider the sizes and loads will be moved
How it will be processing.
Goods Elevator
Goods or Freight elevators are designed for the purpose to carry a large amount of weight. Goods lift used to carry 100,000 lbs.! The doors of goods elevators open vertically to maximise the size of space that may enlarge the space rather than horizontal doors. While the interiors are made of using heavy duty steel material and the door will be heavily strengthened by assuring its freight capacity. Such freight elevators require separate electrical connections and operators. We are able to see freight elevators in industries, factories and manufacturing companies. Moreover goods elevators manufacturers designed the goods elevators for the lifting purpose in mind. They are aimed to carry a particular amount of larger goods than other elevators or escalators.
We can use goods elevators in the following industries
Warehouses and Distribution Centers
Manufacturing Plants and Factories
Retail Stores and Shopping Malls
Hotels and Hospitality Industry
Hospitals and Healthcare Facilities
Airports and Transportation Hubs
Food and Beverage Industry
Logistics and Freight Centers
Factors should know before choosing service elevators
Load Capacity and Size
Speed and Efficiency
Safety Features
Code Compliance
This concludes that brief description between service elevators and freight elevators Emperor lifts, the lift manufacturers  providing top notch service and freight elevators with high quality equipment services. Please contact emperor lifts to know more about the elevators and speak with one of our experts directly for all your assistance.
Thinking of taking the next step with us?