Elevator traction machines are rope-assisted elevators. Usually, multistory buildings and commercial establishments install Elevator traction machine in Chennai. Above the electric motor, the elevator shaft is placed. The elevator traction machine travels faster than the hydraulic elevator. The electric motor is weightless in lift traction machines because the weight of the car counterweights the efficiency of the elevator.
There are two types of elevator traction machines. They are geared traction machines and gearless traction machines. In the gear traction machine, the gear is placed beside the elevator motor. In a gearless traction machine, the motor is not placed. Instead of a motor, the wheel is attached beside the elevator. In this article, we will look into the technical support, features, design, cost and efficiency of the motor.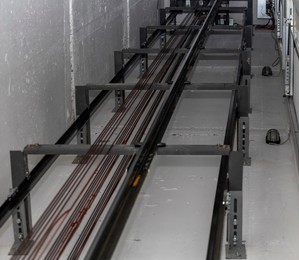 Technical support
Technical support in a traction machine for elevator includes testing, repairs, modernisation and services. At Emperor lifts we look in the door interlocks, shaft and motor system and then replace the repair parts in the elevator. Our technical support team will guide you for any maintenance related problem of the elevator and elevator related queries. For more information visit our website www.emperorlifts.com or contact us + 91 44 2635 0222 / 2635 0333.
Features of traction machine manufactured by emperor lifts
The traction elevator machine room is robust and able to withstand vibration. We customise high-quality payload capacity and high-speed motors. Our main characteristic of traction machine includes simple speed control, high starting torque and regenerative braking. Emperor Lifts is known for the best quality elevators and thus marking us one of the best elevator traction machine in Bangalore.
Compactly Designed
Elevator traction machines are compactly designed based on the establishments ground surface. Emperor lifts provide advanced traction machines with the newest technology that are compactly constructed to meet the needs of the consumers.
Cost Effective
The elevator traction motor that Emperor lifts provide is affordable and cost-effective. The cost of installing the traction machine elevator is based on the design, motor type (gearless traction machine, geared traction machine) and the space of the establishment.
Easy to Use
The elevator traction machines are easy to use and maintain. Regular maintenance of an elevator is necessary. A well-trained elevator technician is required to maintain the traction elevator, and the alarms and door interlocks must be checked on a regular basis.
Thinking of taking the next step with us?